- Tech billionaire Mark Zuckerberg has opened up on why he covered his face in sunscreens
- Mark said it was a ploy to disguise himself from photographers he thought were trailing him
- He stated he was happy he gave the internet something to laugh about
Billionaire and Chief Executive Officer of Facebook Mark Zuckerberg has spoken at length over viral photos that captured his attempted face-disguise with sunscreens.
DailyMail reports that pictures of the tech maverick had emerged in July 2020 while he was having a nice time in Hawaii.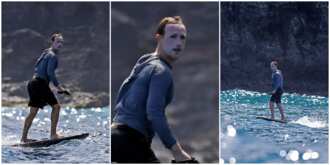 He had covered his face in sunscreens and this generated reactions from social media users with many making memes out of the whole situation.
In an Instagram live chat with the CEO of the platform, Adam Mosseri, the 36-year-old said it was an action he regretted as it didn't quite bring about the expected result.
According to Twentytwords, Mark stated it was a move he could come up with at that time to hide his identity from a paparazzi guy who appeared to be trailing him.
He went on to express joy that he gave the internet something to laugh about.
''I noticed there was this paparazzi guy following us and, so I was like, 'Oh I don't want him to recognize me so you know what I'm gonna do? I'm just gonna put a ton of sunscreen on my face.' And that backfired.
''The delta between how cool you think you look and the worst photo a paparazzi can take is pretty funny.
''No one needs to be wearing that much sunscreen. If someone wants to post a sunscreen meme, it's cool. I'm happy to give the internet some laughs.
''I'm glad people can laugh about it. I laugh about it and I think it's pretty funny.''
In the picture that was shared in 2017, Zuckerberg was flanked by his parents as he posed for the camera after receiving an honorary Doctor of Laws degree during Harvard's 366th graduation ceremony.
It should be noted that Zuckerberg dropped out of Harvard to focus on Facebook. The same school honoured him in 2017.