- Top Nigerian music mogul, Don Jazzy, has finally spoken up on his infamous tiff with Olamide at the 2015 Headies Awards
- Don Jazzy had responded on stage after Olamide went off about how his signee at the time, Lil Kesh, deserved to win the Next Rated Award
- In a new interview with Ebuka, the music producer admitted that he regrets the exchange
The 2015 Headies Awards is one occasion that many Nigerians would not forget in a long time seeing as two of the industry heads, Olamide and Don Jazzy, had an altercation on stage. Well, Don Jazzy has now spoken more on the incident.
In a new interview with Ebuka Obi-Uchendu on Black Box, the much-loved music mogul admitted that he regrets the exchange of words.
It all started when Olamide took to the Headies stage in 2015 to say that his then YBNL signee, Lil Kesh, deserved to win the Next Rated Award and not Don Jazzy's artist, Reekado Banks.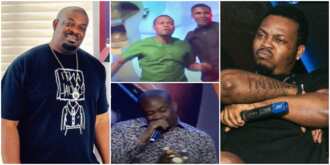 According to Olamide, Lil Kesh's singles were back to back hits from Lyrically to Efejoku and more. The YBNL boss also bounced off the stage with his team as he dropped the mic.
Don Jazzy also had the opportunity to react to Olamide's outburst when he was called on stage. The producer told Olamide to come and collect the car attached to the award if that was what he wanted.
Many years later, the altercation is still a topic of discourse on social media and Don Jazzy revealed to Ebuka that he wishes it had not happened.
According to him, he was pained that people still thought that they pay for awards and that he actually understood Olamide's pain considering the time and effort that had been put into the music.
Don Jazzy said he was not given time to process Olamide's outburst before he was also called on stage. He said if he had been given some time, he would have reacted differently.
According to the music mogul, despite his reaction on stage, he was actually trying to make peace by saying Olamide should collect the car because he didn't want trouble and it wasn't that deep.
The music star said that whenever he sees that he has fans in any country other than Nigeria, he is usually surprised. According to him, he never thought his works would leave the shores of the country.
Explaining the reason for his surprise, the YBNL boss said he was not the kind of artiste who usually puts effort into getting known outside the country.